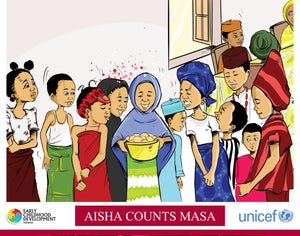 Aisha Counts Masa (English)
"Aisha Counts Masa"
It is Aisha's birthday and she has cousins coming over to celebrate with her. Can you help her figure out how to serve the masa her grandmother has made for all the children?
This beautifully illustrated, authentic Nigerian story is a great fun way for children to explore counting. Hidden surprises on each page provide additional opportunities for counting. Children will have so much fun with this story, while learning. The dual language versions also enable exploration of Nigerian languages.
Includes parent/teacher tips
Downloadable ePub digital book delivered to your email
Works on Apple ibooks and Google Play Books
Other Android devices may require Rakuten Kobo e-reader app
ISBN 978-1-9990476-0-3
© Early Childhood Development Initiative (ECDI) and UNICEF (2019)


All rights reserved. No part of this book may be reproduced, distributed or transmitted in any form or by any means without the prior written permission of the publisher. For permission requests, email info@ecdinitiative.org
Published in Canada by Early Childhood Development Initiative (ECDI)